12386 State Highway 74,

Maysville, OK 73057

420.00

Acres

Hudson Realty of Oklahoma LLC

Office: 580-310-2703
Listing ID
10939469
Property Type
Vacant Land

County
McClain
School
Wayne
420 Acre Ranch with 16 Acres of Water, McClain Co., Oklahoma!!!
The property is located in central Oklahoma approximately halfway between the communities of Maysville and Purcell. The property is directly accessible from a Highway 74 along the western boundary, approximately 660 feet of paved frontage on 130th Street on the north, and one mile of paved frontage on 120th Street along the southern boundary. This ranch consists of 420 acres split into two pastures containing 160 acres on the eastern side and approx. 260 acres on the west. The ranch has working pens and access to power and electricity along the highway and county roads. There is rural water along Highway 74 and along 120th Street. There is one water tap with frost free hydrant already set near the working pens on 120th Street. The perimeter fences are in good condition and some of the cross fences have been newly built in the past several years. The property has been used for grazing cattle and recreational purposes. Surface water is abundant with a creek crossing the property feeding an 8 acre lake and two 4 acre ponds. In addition to the lake there are 6 smaller ponds suitable for watering cattle year round, and there is a portion of a 10 acre lake extending over onto the property on the eastern boundary. This property provides excellent locations for future building sites with beautiful views of the western horizon. The land includes elevation change, native grasses, mix of cover, and the presence of excellent water resources. Whitetail deer would be considered the most prominent game species on the ranch but don't overlook the turkeys and the ducks! There are ample places to hang a tree stand along the creek and long-range opportunities are available on the top-side of the ranch. Incredible fishing is available in the lake and other ponds located on the land, including Bass and Crappie. Overall, this is a tremendous property located in a high rainfall area, close to numerous recreational lakes, and under an hour to Oklahoma City, and 3 hours to Tulsa or Dallas/Ft. Worth!
For additional info, call Adam Hudson at 580-310-2703.
420.00 Acres
2640 Frontage
Municipal Water
Pond View
Lake View
Scenic View
Pond Waterfront
Creek Waterfront
Lake Waterfront
Hudson Realty of Oklahoma LLC
Office: 580-310-2703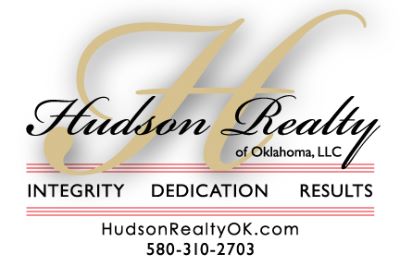 Listings data is deemed reliable but is NOT guaranteed accurate by NY State MLS.
Contact Us
Who Would You Like to Contact Today?
I want to contact an agent about this property!
I wish to provide feedback about the website functionality